Bellchamber Rings
Custom Goldsmith
Book an Appointment
Help us serve you best by booking an appointment. Use the button below or visit booking.bellchamber.net.
Handmade Jewellery

Traditionally handcrafted with a passion for Celtic & historic designs.
Knot work, spirals, trees of life, ancient crosses and much more.
Bespoke Design

Wedding bands and works of gold, silver, and gemstones since 1995.
Browse our custom project diary to inspire your own one-of-a-kind piece. 
Repair & Service

Expert, guaranteed workmanship and free estimates. All on-site.
Rings, clasps, watches, engraving, cleaning, polishing and more. 
CUSTOM AND WEDDING ORDER GUARANTEE
Wedding Rings and Custom Orders are an honor for us to make.  Currently we are open by priority appointment. Walk-ins are welcome on weekdays between 11:30-1:30pm but appointments are preferred to visit with us in Talbot Centre Mall MAP
Please call 519-432-1558 to book a consult or arrange jewellery pick-up/drop-off.
CUSTOM ORDER TURNAROUND:
Full custom design with gemstones (4-10 weeks)
Full Custom design (4-8 weeks)
Custom order of existing Bellchamber (2-3 weeks)
Any stock item to be resized (3-7days)
Web Exclusives
In stock / ready to wear / ready to ship
25+ Years
Passion for the Craft
For over a quarter century, Jason Bellchamber has been obsessed with artisinal goldsmithing and Celtic artifacts. Their fascinating design and rich history serve as an exploration into his own heritage. He enjoys the continual rediscovery and application of ancient techniques used by Celtic metalsmiths and artisans. 
bespoke projects
Custom Work Diary
Unique pieces we've been working on recently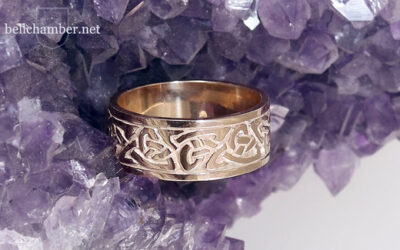 This 8mm wide Eternity Triskele has been one of Bellchamber's mainstay designs for over 25 years. It features a repeating triquetra pattern...
read more
THEMED COLLECTIONS
ALL HANDMADE ON SITE
Handmade
Wedding & Engagement Bands
The perfect expression of eternal love, masterfully handcrafted into works of art as unique as you.  
Thank you for your
REVIEWS
"Jason brought our designs to life better than I had hoped, found the stone we wanted and all for a price that fit perfectly within our budget. His service goes above and beyond expectations."
"Beautiful craftsmanship – distinctive designs – knowledgeable advice – excellent service. We bought one of Jason's unique Celtic-design rings for our son on his 21st birthday – a true keepsake! We'll be back!!"