This gift giving season Bellchamber's has over 200 estate rings with precious gemstones (diamond, emerald, ruby, sapphire or tanzanite) or semi precious gems. Some of these rings have never been worn. Metal choices are 18K gold, 14K or 10 Karat, or in solid Sterling Silver. They are priced at 60% off the appraised value plus take another 20% off for our 20th anniversary. Finger sizes are 6-10.5. Gold rings are $200 and up and sterling silver rings are regularly $250 are $149 before the special. Each has been inspected and many are in new unworn condition! Let's get shopping! They are all one of a kind and once they're sold they are gone.
Close up of some of the Sterling Silver Dinner rings available.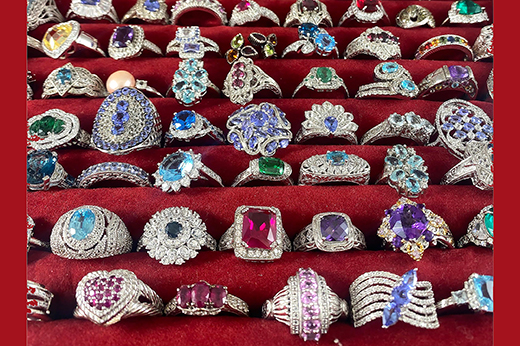 Some examples of gold below with Rubies, Emeralds, Tanzanites, Diamonds, Topaz, Amethyst, Garnet, Aquamarine or Citrine, Note that the gold rings will have genuine diamond accent stones.